ACCPAC Accounting Software
ACCPAC for Windows is more than just an accounting system. It is a complete business management solution with the features and technology to assist companies of any size manage their entire business.
Built To Serve You Today. And Tomorrow.
There's no "wrong choice" with ACCPAC for Windows. That's because our product lines include a comprehensive Investment Protection Plan that allows you to upgrade from one series to the next as your business requirements evolve. Start with the Small Business Series and upgrade to the Corporate Series. Or upgrade the Corporate Series to run on Microsoft SQL Server. Your data transfers seamlessly with absolutely no downtime. There's no need for costly retraining because both product lines share the same interface and functionality. And you get preferred pricing, saving you time and money.
Full Integration With Microsoft Office
Because ACCPAC for Windows delivers the industry's leading integration standards, including ODBC, OLE Automation, ActiveX controls, VBA and DDE, it works seamlessly with Microsoft Office products. Now, information such as budget data entered into Excel can dynamically update Word, PowerPoint, Exchange or Access - eliminating the cumbersome task of exporting data from one application to another.
Click on the product name link for more information.
---
Meet the ACCPAC Family of Products
ACCPAC Small Business Series is a complete business management system designed specifically to provide an affordable solution for small businesses.
Choose Small Business Series if your business requires:
Powerful analysis and reporting
Complete accounting feature set
Up to 5 users
---
ACCPAC Corporate Series is a complete, multi-tier business management system.
Choose Corporate Series if your business requires:
Powerful analysis and reporting
Multicurrency and multilingual support
Unlimited users
E-Business capabilities
Extensive customization options
Complete accounting feature set
Powerful sales force automation capabilities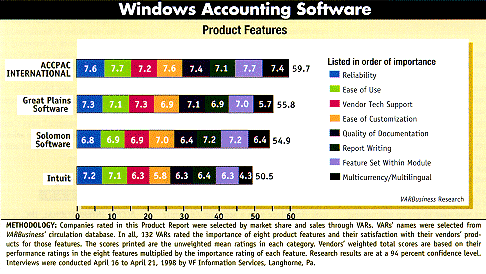 ---
Dominance Software |
P.O. Box 20338 | Dayton, Ohio 45420 | 937-254-7638 | Email