Dominance Software Services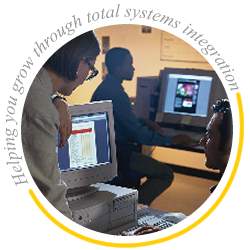 "Since our initial meeting in 1992, DSD has shown a unique and friendly manner in the way they do business. DSD was able to successfully supply us with both SBT Accounting Software and customized software to match all our accounting requirements for our business."
— Jim Gealy, Daycoa
We are proud to be able to offer our clients services designed to directly help them meet their business goals. More than 20 years in providing software and hardware solutions for clients forms the solid base of our services.
---
Consulting and Analysis
We will interview key personnel, gather information to fully understand the requirements of your organization, perform needs analysis and identify requirements. We are experienced in defining business processes, workflow, rules and requirements. We will identify and work with key personnel who will ultimately determine the success of the project. Based on our evaluation, we can provide software, hardware, design and staff development services to exactly meet your needs and goals.
"After 20 years working with many types of industry, I have seen the best and worst of people's perception of how IT fits into their organization", says Jim Byers, President. "IT is not a solution unto itself, rather a component of the whole organization. You still need a strong commitment to sales, marketing, product support, and service. Just as automating a well run company will help propel its growth, automating a poorly run company will speed its demise."
Contact consulting@domsoft.com to learn how our consulting services can best serve you.
---
Computer Network Services
Our 20 years installing networks for our clients in Dayton and southwest Ohio include all software, hardware, design, installation, training and continued support. Our staff includes certified network engineers to provide you with the highest level of expertise.
To build your network intelligently, we must first know your business. Then and only then can we design the right networking system for you. By thoroughly understanding your business needs, performance goals, corporate protocols and existing infrastructure, we can best apply our technical expertise to develop a network that makes sense for your company. We specialize in systems design for a variety of operating environments.
Some of the many products we work with everyday for networking include:
Microsoft Windows NT®
Windows NT Terminal Server
Microsoft Exchange Server
Microsoft Server 2000
Microsoft Server 2003
Microsoft Small Business Server 2003
Novell
Citrix Metaframe 1.8
Citrix XP
Citrix Nfuse
Linux
Whether your needs include a LAN, WAN, Email, Internet Connectivity, Disaster Recovery, Client/Server Systems Development, or complete Enterprise Solutions, Dominance Software Development delivers systems that are tailored to your company's specific needs.
Contact network@domsoft.com to learn how our network expertise can be put to work for you.
---
Training
"Tracy is very thorough and easy to work with. She explained the procedures in a way that I could understand and has exceptional knowledge of SBT and accounting."

— Glenda Gibson
Polinas Plastic of America
DSD offers training for all the software products we distribute plus network operations. We are especially proud to offer a SBT Certified Product Trainer who will work closely with you to ensure a smooth, error free startup and continual support so you can make the most of your investment with SBT.
Contact training@domsoft.com for more information on how we can meet your training needs.
Dominance Software | P.O. Box 20338 | Dayton, Ohio 45420 | 937-254-7638 | Email