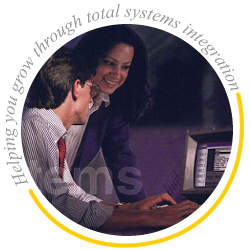 "Reliable and trustworthy are two words that come to mind when working with DSD. We are glad we have a working relationship with you."

— Gwen Mitchell, Mitchell Golf
Company Profile
Dominance Software Development, (DSD) has provided computer software and hardware consulting and implementation services to businesses since 1983. A privately owned firm in Dayton Ohio, DSD offers system integration and consulting for the distribution and manufacturing industries, as well as solutions for service industries.

Key products supplied by DSD are the Family of SBT and ACCPAC Accounting Software Products, TIW Workshop, COSS and Lahey for manufacturing, GoldMine contact management software and Citrix networking software.

DSD also offers complete services for:
software modification and installation
network hardware and software
training
DSD has the ability to meet widely varied customer needs from custom software modifications to complete network installations. The goal is to provide you with excellence in service that is, without exception, the best and most reliable you have ever experienced.
Staff Profiles
For a brief profile of some of DSD's staff, click here.
Free Report
Would you like to receive an independent review of accounting software? This report includes evaluations of all major accounting software and compares them to standards. Just contact us and we would be pleased to provide you with your own copy.
Free Newsletter
Stay informed of developments in accounting software by signing up to receive our free newsletter now.
A message from our President, Mr. Jim Byers:
Thank you for your interest in Dominance Software, the products we offer and the services we provide. I hope you will become one of our many satisfied clients who return time and again for additional services. I would like to hear from you regarding any aspect of our business. Please email me at any time if I can be of assistance to you.
Dominance Software | P.O. Box 20338 | Dayton, OH 45420 | 937-254-7638 | Email