Accounting Software
SBT VisionPoint and ACCPAC VisionPoint
VisionPoint is designed for small to mid - size businesses, based on open architecture, easy to modify and simple to use. With thousands of users worldwide, VisionPoint has achieved a level of field - tested reliability that no other accounting software can match.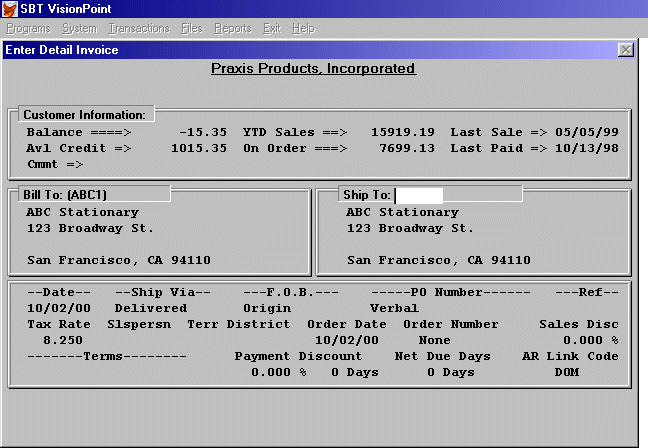 VisionPoint 10.0 is reliable software that's based on Microsoft® technology. This means you'll have a familiar interface that's easy to use. VisionPoint has been in use for over a decade, and has grown up with some of the nation's best - known corporations.
With successful implementations in distribution, manufacturing, service and retail industries, VisionPoint has earned a well - deserved reputation as the workhorse of the average business. With more than 500,000 users in 63 countries, VisionPoint has established a solid track record for safe and reliable handling of sensitive financial software.
Because VisionPoint makes source code available, it's the perfect development platform for industry specialists. Experts have created hundreds of specialized applications that enhance or integrate with SBT VisionPoint. You'll find compatible software for:
Manufacturing
Distribution
Kitting
Point of Sale
Sales Force Automation
Service Calls
Fixed Assets
Many more!
With VisionPoint, you've got access to a whole world of professional tools tailored for your business.
Click on a module below
for specific information:
---
Dominance Software | P.O. Box 20338 | Dayton, Ohio 45420 | 937-254-7638 | Email