Accounting Software Modules
System Manager - SBT Pro Series
SBT Pro Series System Manager is the control center for your SBT accounting system. With System Manager, you can configure hardware and workstation settings, user security, and more.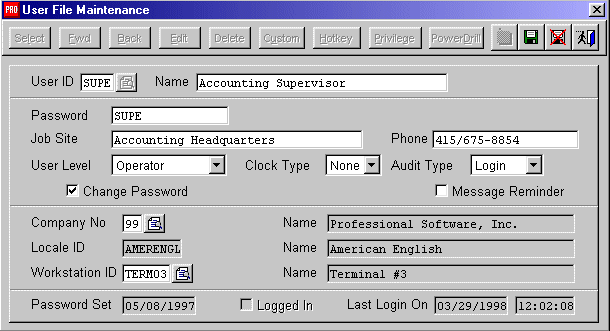 System Manager Features Include:
Hot-key file browsers let you create user-defined, pop-up windows that list up-to-the-minute data from any file in the data dictionary using PowerDrill browser technology.
Reports user audit trails, including a historical record of each function performed by users.
Enables you to change key values, such as customer, inventory item, or vendor numbers throughout the system.
Password maintenance lets you control user access by function, time of day, and date range.
Option to encrypt user ID, passwords, and name for added security.
Users can view various records (inventory items, customers, vendors, and GL accounts) without being able to edit them.
Handles all application period closes and allows simultaneous closing of multiple applications.
Fiscal calendars let you define up to 13 periods and control postings from all applications.
Network messaging allows you to receive and file phone messages from vendors or customers, and send or receive messages to communicate with other users.
System Recovery utilities can up-date and verify database file structures and indices, clear user flags and file locks, delete unused temporary files, and clear the error log.
Error log tracks error code, type, and the workstation that generated any system warning or error message.
With ProAlert you can automate process flows by using clearly specified events that trigger specified actions. ProAlert acts as a "business robot," automatically searching for business events described by you, and then taking appropriate action in response.
SBT Message Master enables you to send any report via email, fax or as a file/attachment. You can also: simultaneously fax, email and print the same report; send reports to unlimited recipients simultaneously; schedule faxes to be sent at any time of day; customize email/fax settings by user; attach binary files, and review a log of all documents transmitted.
For More information on other modules,
select from the list below:
---
Dominance Software | P.O. Box 20338 | Dayton, Ohio 45420 | 937-254-7638 | Email