Accounting Software Modules
Job Cost - SBT Pro Series
SBT Pro Series Job Cost is a fast, flexible accounting tool for project and job cost management. Multiple levels of transaction detail and billing methods provide flexibility for different kinds of companies and projects including made-to-order manufacturing, job shop, engineering, architectural, construction, and service/repair companies.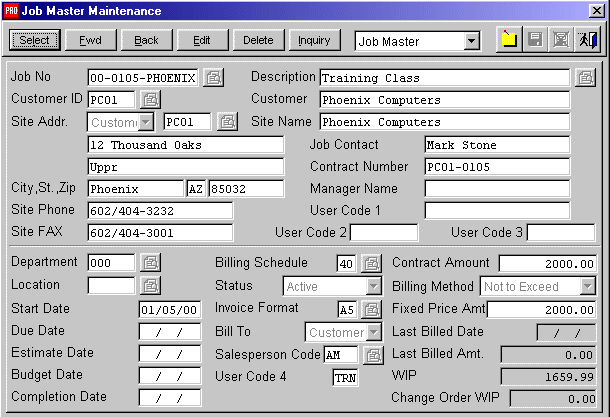 Job Cost Features Include:
Nine possible levels of detail in a transaction: job, division, phase, category, cost type, item code, item description, unit price/ unit cost, individual transaction.
Five possible billing methods: Time and Materials, Not to Exceed, Fixed Price by Job, Fixed Price by Phase Amount, Fixed Price by Phase %.
Budget analysis and estimates for job, phase, category and item.
Includes AIA and Recurring Billings.
Bill multiple jobs on one invoice.
Flag transactions as billable, non-billable, or hold.
The interface is customizable, including a job number template.
Track committed costs.
Optional user-defined standard phases and categories for all jobs.
List both client and owner for any job and indicate which to bill.
Multiple billing schedules.
Detailed transaction histories.
Multiple invoice layouts.
List job lender information.
Inquiry screens list and print current job totals.
Optional CSI format for phases.
Certified and non-certified payroll and reporting.
Track change orders.
Track subcontracts and subcontractor information.
AR and AP retainage.
Payroll burden.
Bill of Materials (Kitting).
Job Cost item maintenance for non-inventory items; use flat rates or markup percentages for billing.
Overhead allocation.
Ability to transfer transactions between jobs/phases/categories.
For More information on other modules,
select from the list below:
---
Dominance Software | 4130 Linden Avenue | Dayton, OH 45432 | 937-254-7638 | Email