Accounting Software Modules
Inventory Control - SBT Pro Series
SBT Pro Series Inventory Control automatically tracks inventory balances, serial number and lots, and product line information. All balances are updated in real time for up-to-the-minute, on-screen access.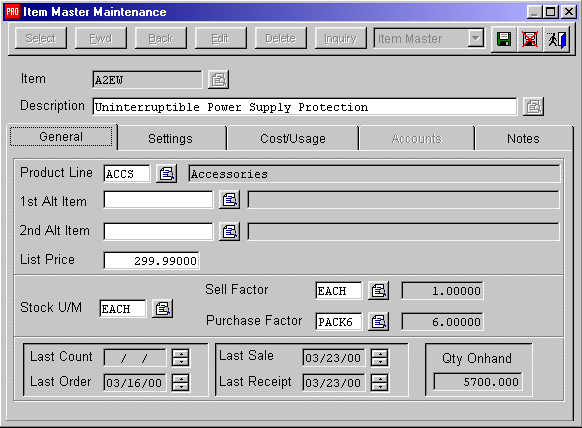 Inventory Control Features Include:
Supports LIFO, FIFO, Average Weighted, and Standard Cost inventory valuation methods.
Tracks unlimited inventory locations and costs at each location.
Tracks serial numbers and lot items.
Allows you to track and report on inventory product lines.
Lets you define units of measure by which you stock, purchase, and sell inventory items.
Multiple price schedules can be created for items based on markup, discount or fixed price methods, with options for dollar amounts of percentages and up to six quantity breaks per price schedule or. items can be set up in price groups.
Negotiated prices for particular customers are supported with price schedules assigned to specific customer and item combinations.
Cycle counts ensure accurate inventory quantities by periodically checking designated high-cost and high-turnover items, without interrupting receipt or shipment entry activities.
ABC analysis allows you to categorize your inventory items according to their overall performance.
Performs dollar or percentage mass cost and price changes on any group of inventory items.
Provides 36-month inventory sales/usage history complete with graphs.
Allows multiple suppliers for the same inventory item.
Automatically updates inventory balances with information from Sales Orders, Purchase Orders, and Accounts Receivable.
For More information on other modules,
select from the list below:
---
Dominance Software | P.O. Box 20338 | Dayton, Ohio 45420 | 937-254-7638 | Email