Accounting Software
SBT Pro Series, ACCPAC Pro Series, or Sage Pro ERP
From day one, Pro Series has been the accounting solution with the 2 greatest advantages in the marketplace - open source code and open data.
Acquired by ACCPAC International and now Sage Software, the longevity and continued development of the Pro Series is a testament to this product.
Because Pro Series makes source code available, it's the perfect development platform for industry specialists. Experts have created hundreds of specialized applications that enhance or integrate with Pro Series. You'll find compatible software for:
Manufacturing
Distribution
Kitting
Point of Sale
Sales Force Automation
Service Calls
Fixed Assets
Many more!
Pro Series is the only product of its kind that's based exclusively on the Microsoft Visual Studio® suite, which means your data is completely unrestricted. The DBF compatible files can be opened by many programs including Microsoft Access and Microsoft Excel. This means that, in addition to the plethora of standard reports and optional report writer, you can view, import, and export your data in a multitude of ways. You get the added advantage of Microsoft's extensive research, development and testing in every Pro Series package. Unlike other products that rely on proprietary languages and databases, Pro Series delivers a fully tested standard that's accepted around the world. Industry standard means reliability, consistency and a solid product future.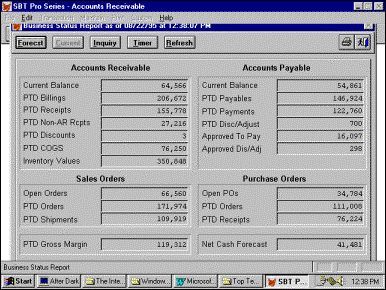 Plus, there are dozens of smart utilities that do everything from budget management to detail drill - downs. With Pro Series, you've got access to a whole world of professional tools tailored for your business.
A Full Suite of Modules
All Pro Series modules are fully integrated for maximum efficiency and reliability. Click on a module below for specific information:
To see a demo of Pro Series, email us.
---
Dominance Software | P.O. Box 20338 | Dayton, Ohio 45420 | 937-254-7638 | Email