Lahey Manufacturing Software
Work Order Module
Lahey Work Orders includes comprehensive work in process tracking, time-phased material requirement planning, and routing. Work Orders may be created by sales requirements, inventory shortages and inventory forecasts.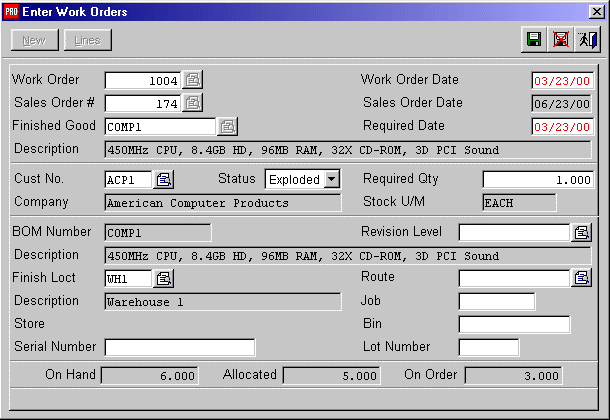 Features Include:
Provides three explosion methods for total control of component allocation and usage.
Allows reversal of work orders.
Prints bills of materials containing up to 100 levels of parent and component parts.
Allows standard bill of material components to be changed on-the-fly after work order explosion.
Supports custom work orders from a standard bill of materials.
Maintains unlimited routes for shop floor control.
Tracks usage of stock and non-stock items, including labor, capacity and outside services.
Allows a single bill of materials to be used for many finished goods.
Prints individual exploded and indented work orders to help with stock.
pulls.
Provides an unlimited number of reporting calendars each with 13 user-defined periods for MRP reports.
Allows the revision level to be changed while entering work orders.
Automatically approves or closes a group of work orders in one step.
For More information on other modules,
select from the list below:
SBT Products | ACCPAC Products | TIW Products | Lahey Products | COSS Products | GoldMine Products | Citrix Products
Network Services
---
Dominance Software | P.O. Box 20338 | Dayton, Ohio 45420 | 937-254-7638 | Email