Accounting Software Modules
Order Entry - ACCPAC Small Business Series
ACCPAC Small Business Series Order Entry enables you to enter orders and sales returns, and print invoices, credit notes, order confirmations, picking slips, and shipping labels. Order Entry integrates fully with Inventory Control and Accounts Receivable, so you always know your inventory levels and the status of your customer accounts.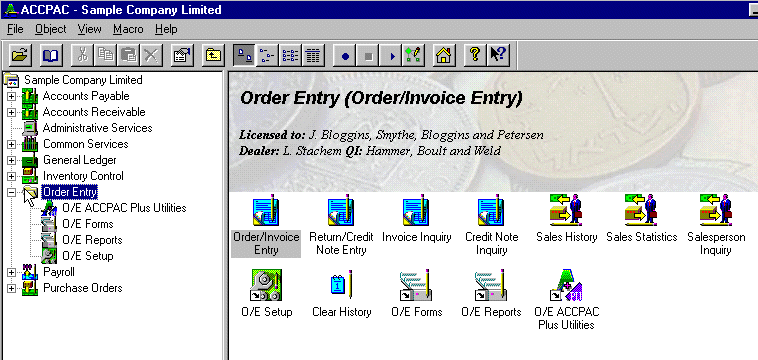 Features Include:
Enter active orders, future orders, standing orders, and quotes.
Add new customers on the fly when you enter orders, or add the customer records later.
Edit and invoice partially shipped orders.
Use password-controlled override of credit advisories.
Include serial numbers with order details.
Use prices with as many as six decimal places.
Look up inventory item status, such as quantities on hand, purchase order, and available to ship.
View sales history by customer or inventory item during order and invoice entry.
Enter order quantities using any unit of measure defined in your inventory.
For more information on other modules, select from the list below:
SBT Products | ACCPAC Products | TIW Products | Lahey Products | COSS Products | GoldMine Products | Citrix Products
Network Services
---
Dominance Software | P.O. Box 20338 | Dayton, Ohio 45420 | 937-254-7638 | Email