Accounting Software Modules
General Ledger - ACCPAC Small Business Series
ACCPAC Small Business Series General Ledger is the foundation of your accounting system. General Ledger's built-in flexibility meets both the current and future financial needs of organizations of all types and sizes. It provides a robust feature set designed to meet even the most demanding budgeting and processing needs.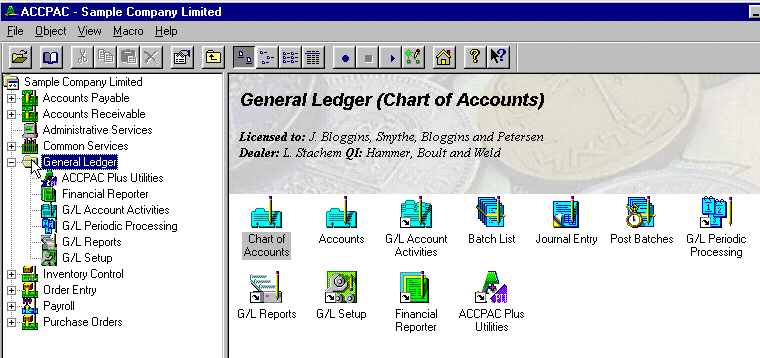 Features Include:
Create alphanumeric account numbers up to 45 characters long.
Use up to three segments to represent cost centers, departments, divisions.
Post transactions to up to five past years for which you maintain data.
Create analytical reports, graphs, and charts in Microsoft Excel.
Automatically update ACCPAC Small Business Series budgets from Microsoft Excel.
Create Microsoft PowerPoint presentations with continually updated accounting information.
Store one set of budget figures to project future needs and compare projections.
Lock periods to prevent unauthorized changes.
Automatically create budgets using prior year information or choose from seven other computation methods.
For more information on other modules, select from the list below:
SBT Products | ACCPAC Products | TIW Products | Lahey Products | COSS Products | GoldMine Products | Citrix Products
Network Services
---
Dominance Software | P.O. Box 20338 | Dayton, Ohio 45420 | 937-254-7638 | Email