Accounting Software Modules
Purchase Orders - ACCPAC Corporate Series
ACCPAC Corporate Series Purchase Orders provides a comprehensive, integrated purchasing system. Receipts automatically update inventory and invoices for the received items, and the invoices are automatically transferred to Accounts Payable.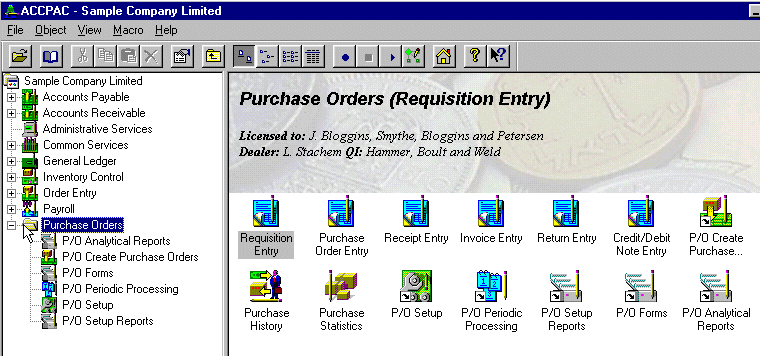 Features Include:
Enter active purchase orders, standing purchase orders, future purchase orders, and blanket purchase orders.
Automatically update the amount spent and remaining on each blanket purchase order as additional items are ordered.
Create one purchase order from multiple requisitions, selecting the requisition details by vendor number and Inventory Control vendor type.
Leave purchase orders open indefinitely until all items are received or cancel any remaining ordered items at any time.
Quickly receive items from multiple purchase orders on a single receipt.
Enter drop-ship addresses for items shipping directly from the vendor to any address, inventory location, or ship-to location.
Post multiple receipts to individual purchase orders for ease of processing.
For more information on other modules, select from the list below:
SBT Products | ACCPAC Products | TIW Products | Lahey Products | COSS Products | GoldMine Products | Citrix Products
Network Services
---
Dominance Software | P.O. Box 20338 | Dayton, Ohio 45420 | 937-254-7638 | Email