Accounting Software Modules
Inventory Control - ACCPAC Corporate Series
ACCPAC Corporate Series Inventory Control keeps track of stock levels and processes inventory receipts, shipments, returns and adjustments. It includes extensive screen inquiry and reporting functions to give you the detailed, current information about quantities, prices, item movements, and sales history that is crucial for effective inventory management.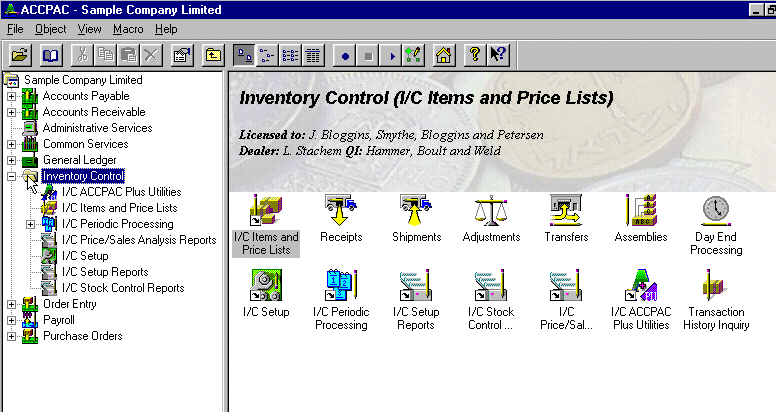 Features Include:
Track an unlimited number of inventory items for any number of locations.
Maintain different item number structures of as many as 24 characters and 10 segments.
Use special characters such as "/" or "*" within a part number for greater flexibility in part number management.
Handle fractional quantities to four decimal places.
Use different units of measure for purchasing, selling, and stocking.
Record serial numbers and details for shipments and orders.
Cost items by moving average, FIFO, LIFO, standard costs, most recent costs, or user-defined costing methods.
Use as many as five markup or five discount price levels per item and price list.
Set pricing by percentage or amount, and by customer type or quantity purchased.
Use as many as six decimal places in prices.
Define an unlimited number of units of measure per item with fractional conversion factors.
Maintain separate price lists for different customer types, payment methods, regions or currencies.
Automatically provides information to Order Entry of item numbers, alternate item numbers, item descriptions, prices, quantities and locations of stock on hand.
When integrated with Order Entry, automatically updates committed and on-hand quantities in Inventory Control when you enter orders and invoices, for complete control of inventory.
For more information on other modules, select from the list below:
SBT Products | ACCPAC Products | TIW Products | Lahey Products | COSS Products | GoldMine Products | Citrix Products
Network Services
---
Dominance Software | P.O. Box 20338 | Dayton, Ohio 45420 | 937-254-7638 | Email