GoldMine products are our specialty!!!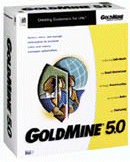 Only the GoldMine family of products provides sales, marketing, service and support solutions specifically designed for small businesses or medium-sized companies.
GoldMine software is celebrated as the best solution for professionals and small businesses to affordably manage customers and automate sales and marketing. GoldMine 5.0 offers flexible customer management and extensive workgroup capabilities with unsurpassed Sales Force Automation functionality. GoldMine provides sales and marketing,
customer service and business-intelligence functionality in a single package.

Featuring tools to easily manage every facet of prospect and client information, GoldMine 5.0 offers small offices, home offices and smaller-sized companies the same benefits
usually reserved only for mid-market or larger corporations - but
at a fraction of the cost.
For additional information about GoldMine or Dominance Software Development, click here.
Dominance Software | 4130 Linden Avenue | Dayton, OH 45432 | 937-254-7638 | Email
© 2000 Dominance Software Development, Inc. All rights reserved.