Computer Network Service Solutions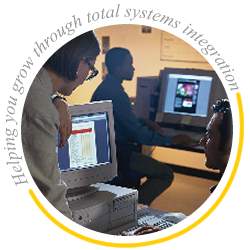 "Since our initial meeting in 1992, DSD has shown a unique and friendly manner in the way they do business. DSD was able to successfully supply us with both SBT Accounting Software and customized software to match all our accounting requirements for our business."
— Jim Gealy, Daycoa
We are proud to be able to offer our clients network services designed to directly help them meet their business goals.
Our 20 years installing networks for our clients in Dayton and southwest Ohio include all software, hardware, design, installation, training and continued support. Our staff includes certified network engineers to provide you with the highest level of expertise.
To build your network intelligently, we must first know your business. Then and only then can we design the right networking system for you. By thoroughly understanding your business needs, performance goals, corporate protocols and existing infrastructure, we can best apply our technical expertise to develop a network that makes sense for your company. We specialize in systems design for a variety of operating environments.
Whether your needs include a LAN, WAN, Email, Internet Connectivity, Disaster Recovery, Client/Server Systems Development, or complete Enterprise Solutions, Dominance Software Development delivers systems that are tailored to your company's specific needs.
We now offer remote backup service from your network to our servers through the Internet. Augment your network backup strategy to preserve your critical business software and data with an inexpensive remote image of your application programs and data.
Contact network@domsoft.com to learn how our network expertise can be put to work for you.
Some of the many products we work with everyday for networking include:
Microsoft Windows NT®
Windows NT Terminal Server
Microsoft Exchange Server
Microsoft Server 2000
Microsoft Server 2003
Microsoft Small Business Server 2003
Novell
Citrix Metaframe 1.8
Citrix XP
Citrix Nfuse
Linux
Dominance Software | P.O. Box 20338 | Dayton, Ohio 45420 | 937-254-7638 | Email